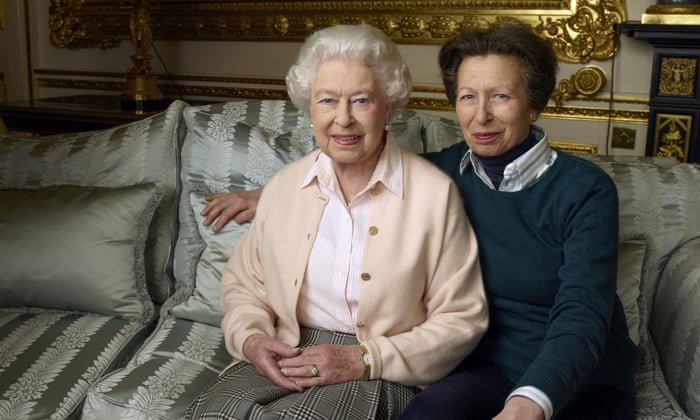 That there is absolutely nothing unexpected about the Queen's choice of clothes to mark her landmark 90th birthday is precisely what is extraordinary. This Keep Calm and Carry On consistency is what makes her unique among modern figures. The merely famous parade their power by the impact they can make with a new look – Taylor Swift with her bleached crop on the latest cover of American Vogue, Justin Bieber's dreadlocks – but the Queen demonstrates her status by staying exactly the same. Instead of relying on the attention-grabbing power of constant transformation, her image works a deeper magic. By never changing, she blurs the distinction between the flesh-and-blood woman, and the head on the postage stamp.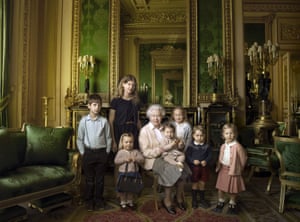 The top note of the Queen's wardrobe on official business is cheerful simplicity. For the public walkabout on the day before her birthday, she wore a Schiaparelli-pink coat with matching hat; in the family portrait from which the new stamps will be taken (see above), she wears a sky-blue dress. Today she wore a thin lime green bouclé coat as she greeted well-wishers in Windsor. This is a message of continuity, a portrait of a once, now and future monarch, with not a carriage clock in sight. She wears the single blocks of bright colour that have become her office uniform. She is a instantly recognisable, a piece of pastel-toned lego diminutive but tangibly substantial.
Her sturdy, rainbow-toned coats and dresses belong to a disappearing world of solid objects – bars of soap, bunting, tupperware boxes of cornflakes. Around her, this 20th-century world is dissolving before our eyes into our ephemeral 21stcentury world of Nutribulletted breakfasts, filtered Instagrams and surreal faceswapping apps, but the Queen does not falter. Her eve-of-birthday concession to festivity – the flowers crowning her hat, possibly (though probably not) conceived as a timely nod to Coachella festival – was neatly offset by the ever-present black shoes and handbag.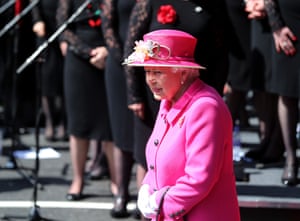 The informal Annie Leibovitz portraits show a subtly different side to the Queen. The cartoonish brights of her official wardrobe are replaced by a softer, more domestic look. There is a pale peach cardigan over a white shirt with a faint white stripe and a checked, pleated skirt for the portraits with her daughterand great grandchildren; a light blue jacket layered over a darker cardigan and another pleated skirt for the shot with her dogs. The military-parade level of polish of the on-duty Queen is notably gone.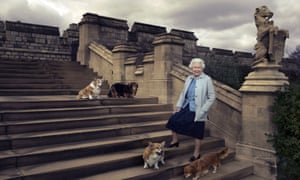 In the outdoor photo, the cardigan is casually half-buttoned. That the colours are not modish or elegant – that cardigan is more magnolia than Farrow & Ball – gives the photos an unstyled believability; even the unphotogenic pavement-grey Berkshire sky of the corgi portrait is perfect, somehow, in its unfiltered Britishness.
For all her commitment of service to the nation, the Queen is absolutely not a people-pleaser: no holding her face in a perma-grin for Her Majesty. These images are very much of the Queen whom Leibovitz has said insists on doing her own makeup for portraits. Proof that one does not require airbrushing to build a formidable visual brand.